Well, the kids and I have relocated to Georgia, but my husband had to stay behind in Alaska and finish up with his job for a couple of months. This means that I dealt alone with all the things related to moving into the new house.
And there were plenty of things to deal with!
(Many times I looked around for the adult who was going to deal with this fresh bunch of trouble, and realized I AM THE ADULT. Ugh.)
First of all, we moved into the house  with it completely empty, without any of our furniture, and lived in it that way for weeks. This was because the moving company didn't seem to be sure where exactly our furniture was…
Not that they admitted it was lost. I just inferred that it might be from the amount of time I spent on the phone listening to their hold music while they periodically popped back on to ask, "What was the name again?" and "Do you have a shipping number?" and "Where was your shipment coming from?" and "Who is your carrier again?"
Finally the shipment was located in a rail yard somewhere in Atlanta, but it still took them over two weeks to get it moved less than a hundred miles east to the local warehouse so it could be delivered to our house.
In the meantime, I outfitted the house with air mattresses and a card table with folding chairs. We painted some walls. Things were going pretty well.
Then the toilet exploded.
I was washing out a paint roller in the kitchen sink (which, as you might guess, required a lot of running water) when all of the water began to come back up OUT OF THE GUEST TOILET! I didn't notice it was happening until Little Girl said, "What's that smell?" By that time, the whole bathroom was flooded with painted toilet water.
I had to call for help.
Fortunately, a very nice plumber called Larry arrived soon. (Unfortunately, however, he did not look like the hunk in the picture.) Also fortunately, the problem was NOT the septic tank, as Larry first feared. It took several hours, but the clog was cleared. Success!!
My next task was registering the kids for school, which was fraught with difficulty. Maybe I'll blog about that later.
When our furniture shipment finally arrived at the house, it was a typical July day in Georgia, just right for lugging heavy things about outdoors.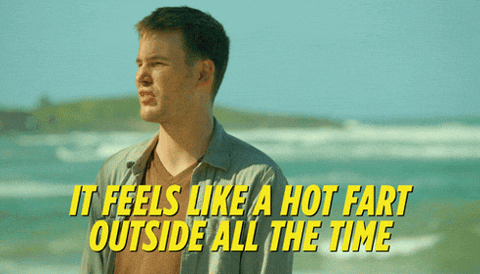 (gif from https://giphy.com/explore/humid)
I really shouldn't complain, because all I had to do was stand outside and check things off a list while the poor moving guys did all the hard work of carrying everything.
But it was REALLY TERRIBLE standing there with that clipboard all day.
Plus the twins kept opening boxes and spreading things all over their floors so that the moving guys had to keep telling me, "Ma'am, I can't put this here dresser in the little boy's bedroom. There ain't no room in there."
Then I'd go in there and move everything off the floor and yell at them to keep the area clear for their furniture.
Five minutes later, a different guy would come up and say, "Ma'am, I can't put this here desk in the little girl's bedroom. There ain't no room in there." And I'd have to do the same thing again.
They were only able to put together one of the four beds in the house because of missing pieces, and the unloading and unwrapping lasted well past six p.m., but it finally got done.
THIS is the pile of packing trash accumulated JUST THAT DAY, which the moving company fortunately hauled away.
After that, I was still left with about a million boxes to unpack. Fortunately, my mother came to my rescue.
She spent four days hard at work with me, and we emptied EVERY BOX and set it out to be hauled off.
Finally! The moving mess was over! I could just relax until my husband returned. There would be no more problems!
Or would there be?…..